Paul Dye, Editor and chief – Kitplanes Magazine
"I got a chance to read through your paper this morning, and as an engineer who has spent a career in flight operations, I found it fascinating. I have spent more time than I can count in simulators and flight vehicles evaluating cockpit improvements and handling qualities of air and spacecraft, so this is right up my alley. I find your solution to be unique, and would love to have a chance to give it a try."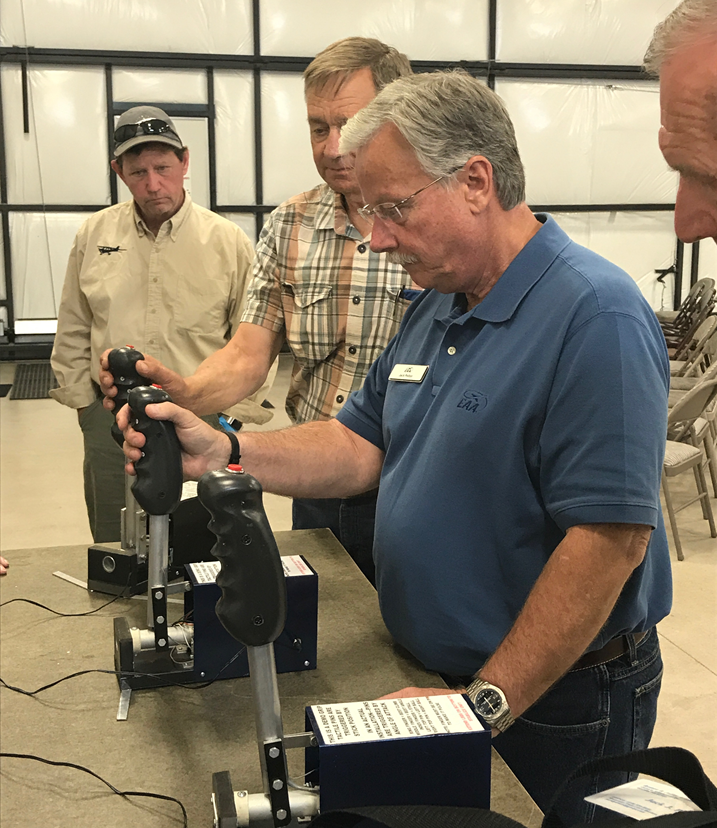 JACK PELTON, President of EAA -at the Missoula, MT EAA Chapter meeting trying out the FeelFlight demo grip. In his words, "a brilliant idea."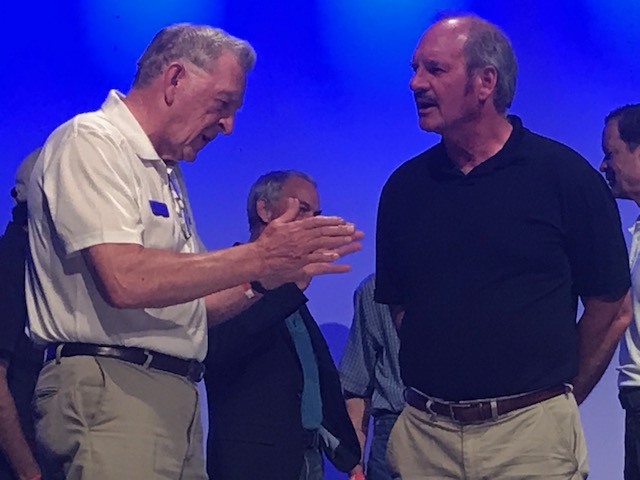 Dick VanGrunsven, "Van" following the 2018 Founders Innovation contest and talking to inventor, Jack Hohner. Van, one of five judges, fought hard for FeelFlight at the contest but was overruled. FeelFlight did win the popular vote with the audience. And Van said he wants to put it in an RV.
Robert Lombard, Chapter 79, long time pilot in many aircraft types
"Jack, this is a brilliant idea. I think you're going to save a lot of lives. The FeelFlight Video Demo was well done and really explains the history and reasoning behind the tactile feedback being already validated in turbine aircraft. Most important it's not just an angle of attack tactile sensor but gives you roll and yaw input to help avoid the problem and get out if you're in too deep."
Chris Perkins, Chapter 79 – Private pilot, glider pilot. Owns and flies a GROB motor glider
"WOW! That would sure wake you up!"
Roger Bertsch, Chapter 79 – retired military pilot. Currently owns and flies a Cessna 182 and a Zenith 601. He added an angle of attack indicator to the Zenith.
"The angle of attack gauge is one more thing to look at. And it doesn't get looked at. I like the idea of being able to FEEL the angle of attack and inclination."
Peter McEvoy, Chapter 79 – owns and flies a Cessna 182
"What an elegant solution to pilot awareness during the slow flight regime!"
"With a panel mounted AOA, you (by necessity) must divert your eyes towards another instrument in addition to the ball and airspeed indicator. It is one more thing to look at and process during the busiest part of most flights. You just don't need to have another distraction pulling your eyes inside the cockpit at that time. It sounds like a gentle tap on the shoulder: there when you need it, otherwise everything is fine."
Jean Haynes- Chapter 79, private pilot
"It's about time someone came up with something that allows the pilot to obtain information about his airplane's attitude other than visual displays. Tactile feedback makes perfect sense. I'm surprised it's taken so long for tactile feedback to make its way into general aviation."
Glenn Briggs – Chapter 79, private, commercial, A&P
"I like the tactile approach. I am 73 years old so I need all the info available. FeelFlight's sensitivity & instant input is second to none. I will be ordering one for my Yankee as soon as possible. Thank you for bringing FeelFlight to all us pilots. It will save a lot of lives."